The Forgotten Industrial Building On The Forgotten Part Of The City
If you are from Poland, you know Warsaw – the capital city. You probably know the city center. You know where Ursynów or Wola are. But the part of Warsaw called Tarchomin seems to be so far, maybe even out of Warsaw. However, forgotten places can be full of forgotten buildings. So when you visit Tarchomin, you should type "urban exploration near me" on your mobile phone. What will you find then? Plenty of places worth to be marked on your urbex map, of course. The most noteworthy of them is an abandoned industrial building – Pollena Aroma. Here, you can find rusty devices: autoclave, distiller, filters, and reactor. Would you like to see them? So let's go on another urbex journey!
Yeast And Alcohol For Whole Warsaw - The Original Purpose Of The Brick Building
Those were the old days when Tarchomin was not a part of  Warsaw, but it was a small village. And there was one man who completely changed the course of the history of this place. Henryk Bienenthal is undoubtedly one of the most important people in the history of Białołęka. Unfortunately, he is forgotten on the Internet (like the Tarchomin itself).
We only know that he was a Jewish entrepreneur. Maybe he liked to visit Lejb Osnoz's tenement house? We don't know. Anyway, he established a factory in Tarchomin. The factory of yeast and alcohol. He chose a place next to the narrow-gauge railway from Warsaw's Prague to Jabłonna. His business model was simple – produce yeast and deliver it to all bakeries in Warsaw. Bienenthal produced yeast using the Viennese method. In a nutshell: he fermented the dough, combined it with the mash, closed it in fermentation vats, added water, and waited. He was such a clever man. He used a method that allowed to obtain not only yeast but also alcohol. So he had not only a yeast factory but also a distillery.  For the next few years, Bienenthal could count carriages full of yeast and alcohol leaving the factory. And count money. He created a lot of workplaces in his village. That is why this part of Białołęka is still called Henryków in his honor.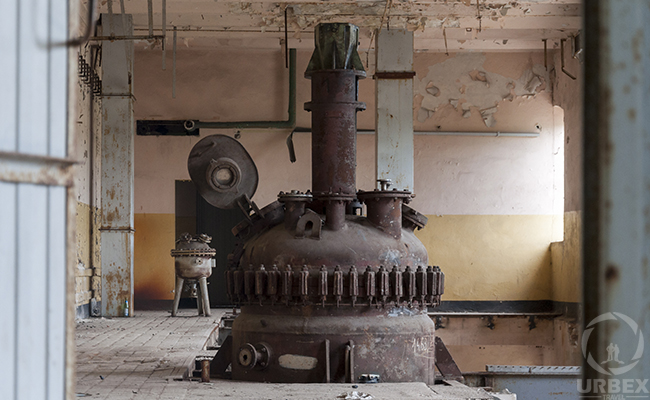 Aroma Factory - A Huge Part Of The History Of An Abandoned Building
The building was transformed into an aroma factory that changed owners frequently. The last one was the company – Pollena Aroma. The Company cooperated with Bronisław Radziszewski – a man who invented the first synthesis of phenyl alcohol. No, it wasn't drinking alcohol. We are in Poland, but it was no vodka. Phenyl alcohol has the scent of a rose and is used in the perfume industry, of course.  Its production was a bull's eye for Pollena. In 1971 the company became one of the major exporters of fragrances supplying the world's most famous perfumery companies. Therefore we can say that this alcohol did not destroy anyone's life. On the contrary, many Pollena employees got rich thanks to this kind of alcohol.
It is also worth mentioning that this fragrance refers to beautiful history. At the end of the fourteenth century, Elżbieta Łokietkówna of the Polish Piast dynasty, ruling Hungary, created and propagated the first alcoholic perfume in history in Europe – "Queen of Hungary's Water" (Aqua Reginae Hungaricae), which were the most popular fragrance and medicine at all European courts and are still sold today in the LIBERTY warehouse in London. In 2000, a replica of this famous perfume appeared on the Polish market in exclusive packaging, recreated by perfumers and artists. That's a very interesting fact. So far, we associated Hungary with The Kelenföld Power Plant and The Red Star Train Graveyard. From today this group is joined by perfumes with phenyl alcohol.
Industrial Urbex Photography - A Photos From Abandoned Aroma Factory
Ok, now you know the history of this abandoned building. You know that two kinds of alcohol were produced there. The first one was drinkable,  the second one was not. You know that phenyl alcohol smells like roses. You know that Tarchomin exists, and it's a part of Warsaw, and there is a pretty nice abandoned industrial building. And that building probably brought you to this website. You want to see the contemporary photos of this place. Am I right? Ok, so you can find the urbex photos below, and we hope you'll enjoy them!