Old Trains Near Me - Railway Urbex in The Center Of Warsaw
Sit back and relax, because we prepared a long report from a long urbex trip. Long doesn't mean boring, of course. We visited the amazing, abandoned railway object, which is also huge. We had to split our visit to three shorter journeys. But it was worth it. In this post, you will find a spectacular number of photos, and each one is different. If you are a train lover, you will love our photos. Maybe it's not a Red Star Train Graveyard. Actually, it's not a train graveyard at all. Anyway, You can find here nice urbex places on the ground and underground. So join us in our trip to Odolany railroad.
A Huge Concrete Construction -A First Part Of The Odolany Railroad
It is a hidden facility. To get there, you have to face with the mud and bushes. Was it worth it? Of course! If you are a train-lover and you like a lot of tracks, you will love this place.  Between those tracks, you can see a  concrete construction. This tower provided coal to locomotives. That was one of four towers brought to Poland after WWII and it was designed by " Ross and White Company Locomotive coal, sand, and cinder plants" – a company from Chicago. Their construction, erected in 1951, was efficient because it was able to fill the steam engine boiler in just a few minutes. There was once a grate under the unloading track, into which coal was poured. Then the lift transported the coal up the building and discharged it into the main tank. Below the tank were two smaller tanks equipped with scales and chutes. The whole construction was amazing. Today we can see only the tower which has been abandoned since the '90s. There was also the train graveyard, but currently, we found only two old trains that are inhabited by homeless people. We left this place and we started walking towards the next object. On the way, we passed magnificent fuel tanks, and we got inside them.  That was a nice stop before the last part of our trip.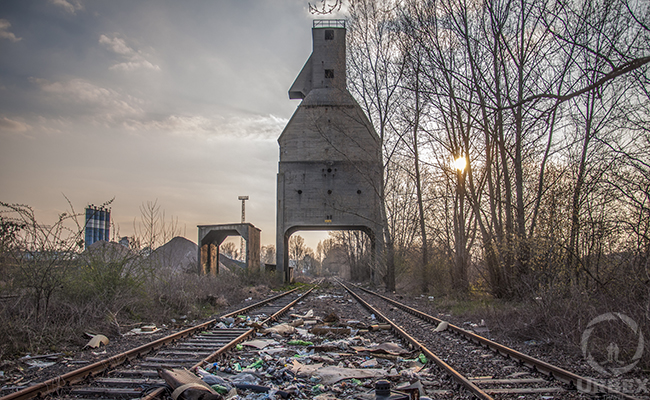 Risking Life For Urbex Photographs - Train Repair Station
Have you ever been so motivated to take a photo to risk your life? In the last part of our urbex trip, we would like to get inside the train repair station, but we couldn't find any entrance. Actually, we found it, but it looked so dangerous. We had to climb on a shed made of sheet metal. From the shed, we jumped on a tree and next, we got to the object through the window. Once again we realized that it was worth the risk. The abandoned building was huge and we took there a lot of spectacular photos. We saw also building with offices, but we couldn't find an entrance to them. There was no connection between this building and the repair station, but impossible is nothing. The next object which we visited, was a nearby bunker. Each building in Poland erected during the cold war has it's own bunker (in case of nuclear war). And you know what… The bunker had a connection with the office building. It was the crowning glory of our trip.
Abandoned Railway in Odolany Photography
As we mentioned at the beginning, we took an enormous number of urbex photos on this trip. Below you can find the photos, especially from the concrete tower, fuel tanks, repair station, and the bunker. But returning home we photographed a lot of surrounding railway details like old train wheels and little railway station. So get ready for seeing more than 300 photos. Enjoy them, and see you on the next trip!